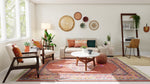 Easy Ways to Give Your Home Decor a Quick Refresh
There are many reasons why you might want to update the look of your home. Maybe you're getting tired of the same old thing, or maybe you're just looking for a change. Whatever the reason, there's no need to spend a fortune or hours laboring over the design to achieve a whole new look for your home. There are plenty of simple and affordable ways to give your interior design a fresh look.
A Quick Refresh
When it comes to home décor, one of the easiest and most affordable ways to make a big change is by switching out your pillows and throws. A new pillow or throw can add instant color and style to any room, and they're also a great way to experiment with new trends without making a big investment.
Even easier is to swap pillows, blankets, and other accessories from different rooms to give each room a quick and easy refresh.
The Walls
Paint can be a powerful tool when it comes to interior design. A fresh coat of paint can brighten up a room and make it feel more welcoming, while different colors can create different moods in a space. If you're looking to update your home décor on a budget, painting your walls is a great way to do it.
One of the best things about painting is that it's a relatively inexpensive way to make a big impact. A gallon of paint typically costs around $30, and depending on the size of your room, one gallon may be all you need.
Adding art prints to your walls is a great way to add color and personality to your home. Not only are they a great way to express your own personal style, but they can also be a source of inspiration.
Art Prints can be one of the quickest and easiest methods to add another level to your color scheme. Whether it match the colors of your room or represent a complementary color, it can make the color palette of your room that much more dynamic.
Choosing the right art prints can be tricky, but it doesn't have to be time consuming or stressful to find prints that speak to you.
Take our quiz to find Art Prints tailored to your taste.
Our quiz is designed to help you find prints that reflect your unique decor style, and adding art prints to your walls is a great way to add color and personality to your home. It only takes a couple minutes to complete and your results will tell you your personal decor style as well as which prints fit your taste and style.
Take our quiz today and find art prints that will perfectly reflect your unique style.