This store requires javascript to be enabled for some features to work correctly.
FEATURED ARTIST
Robert Bengston
ROBERT BENGTSON is an inspirational artist. Having grown up on the East Coast just outside Philadelphia, he's lived in the San Francisco Bay Area since 1990. While receiving a degree from Brown University, it was the photography class at the Rhode Island School of Design (RISD) where he first began to discover his creative calling... "Illuminated by the red light in the dark room late at night watching life fade into reality."

Robert went on to a successful career as a commercial photographer, eventually applying his fine-art photography skills to personal, residential, and commercial projects for clients ranging from individuals to corporations. He's been commissioned to make art out of the details of homes, hotels, businesses, cities, objects, collections, and more. Notable clients include Park Hyatt, Marriott, Oracle, the Palace Hotel, the Grand Hyatt, and Macys.

In 2012 he created Inspiration Campaign as a crowd-funding, crowd-sourced, society-wide installation. For three years individuals contributed messages and dollars and collectively transformed billboards and sides buses throughout the Bay Area with positive content to uplift and inspire. Collectively, these life-affirming "ads" were experienced over 13 million times. Robert's also created fine art books, given talks and presentations, brought interactive experiences to conferences and events, and has recently finished writing a manuscript on beliefs-as-creative acts in service to the evolution of thinking, believing, intending, and creating.
For over a decade Robert had a commercial photography studio in the north end of Sausalito, which perfectly compliments his newest creation of The Art of Detail Gallery at the south end in the heart of downtown Sausalito. Located in the enchanting Princess Court, the gallery showcases elements from the installations, provides sitting areas amidst flags and lanterns, has interactive experiences for all ages, and features for sale an array of meaningful things in the form of his fine-art photography, Ceremonial Redwood pieces, metal Trees of Life, cards and games and more.

Perceptive, kind, charming, and intuitive, Robert has a magical personal effect on people that inspires their presence and passion for life. His artistic brilliance of raising the frequency of ideas and things embodies an invitation to pause, contemplate, believe, receive, and choose. What guides him is his belief that everything is every thing. What inspires him are creating things and experiences that bring out the best in people.

You can find him at the gallery supporting new modes of inspiration, working on projects at his home in Southern Marin, driving around in his white pickup truck with the 'divine-feminine' plaster cast in the back, gifting inspirational message cards to those he encounters along his way, and on the majestic trails of Marin County "marveling at this planet called Home".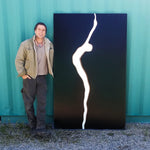 ART AND INSPO
In 2008 Robert began his journey into 'interactive art' by creating his first of four installations, Self-Evidence, which was followed by Memortrees, Flight, and Collective.
Each embodied the intention to use creativity and art to inspire
presence, contemplation, and participation in the form of shared
personal reflections that became part of the art and experience for
others.
SHOP Prints