This store requires javascript to be enabled for some features to work correctly.
FEATURED ARTIST
Jackeline Ivett Alvarez
Hi! My name is JACKELINE IVETT ALVAREZ, and I have loved art in all its forms ever since I can remember. Painting in particular is my first and greatest love, and I am thrilled to share my work with you.


It was when I studied Studio Arts with an emphasis in Drawing and Painting at Loyola Marymount University that I really developed my personal style. I am inspired by nature as well as the power of womxn and fem figures. By utilizing rich colors and organic shapes, I use my paintings to articulate what I understand to be love, connection, and divine beauty.


My mission is to make art that motivates and moves me, and hope it does the same for those who experience my work. Let the deep tones envelop you and remind you of your greatest loves, dreams, and desires, remembering the profound beauty of the earth and the gift of feminine presence.
 
Note from Palomarin: Jackee's been a friend of Palomarin Decor founders, Sam and Ralph, for years. Making art and having Game of Thrones watch parties since the beginning. We met in college and have been friends ever since.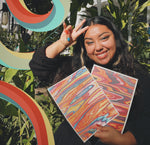 ART AND INSPO
I express my vision of the world through my art, whether it is what I currently see and feel or what I hope to in the future. My pieces focus on an array of subjects, with the most common being the veneration of womxn, Mother Earth (as she is always surrounding and protecting us), and geometric & organic shapes. I often turn to vivid, warm colors to execute ideas, as they make me feel most at home.
SHOP Prints