This store requires javascript to be enabled for some features to work correctly.
Håfa adai, in CHamoru, is how we say hello on the tropical island of Guam, a U.S. unincorporated territory in the Western Pacific and the place I was born and raised.
The ocean and my culture are my muses; the people in my life, my motivation. I draw, paint, sculpt, design, and am always looking for new mediums to experiment with. When I'm not creating you'll probably find me swimming with turtles, hiking Guam's jungles, or playing Halo.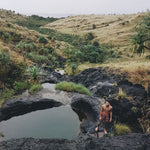 ART AND INSPO
My prints featured on Palomarin are a random assortment of my creative explorations. That being said, I'm consistently inspired by the sun, the moon, the ocean, and everything else in between.
SHOP Prints