This store requires javascript to be enabled for some features to work correctly.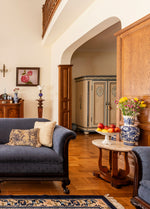 Traditional
You're all about creating a warm and inviting space. Rich colored accessories, fabrics, and wood details.

Traditional spaces often feel very formal and elegant, making them perfect for entertaining guests.

If you enjoy entertaining and hosting dinner parties, then a traditional interior design style is likely the perfect match for your personality. It's safe to say, you have a keen eye for detail. Your guests will always feel welcome in your home, thanks to that keen eye and your design sensibilities.

Traditional style generally lends itself to neutral colored walls with furniture and accessories in rich, vivid colors and intricate details. It usually has an emphasis on luxurious fabrics, like velvet or silk.
A few prints perfect for your style:
Free Interior Design Guide with any art set
100% Happiness Guarantee — Free returns, no questions asked
Free Interior Design Guide with any art set

100% Happiness Guarantee — Free returns, no questions asked