This store requires javascript to be enabled for some features to work correctly.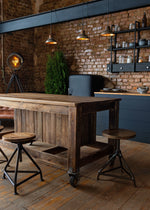 Industrial
You're a bold and sleek, no-nonsense individual—who, let's be honest, is a romantic at heart.

This means that you are attracted to the bare bones of a space, and you like to keep things simple and streamlined.

You're not one for frills or fuss, and you prefer functional
furniture that has a purpose. You're drawn to natural materials like
wood and stone and you're not afraid of a little DIY.

You're creative and resourceful, and you have a unique style that is all your own.

A Few Prints Perfect for your Style:
Free Interior Design Guide with any art set
100% Happiness Guarantee — Free returns, no questions asked
Free Interior Design Guide with any art set

100% Happiness Guarantee — Free returns, no questions asked