This store requires javascript to be enabled for some features to work correctly.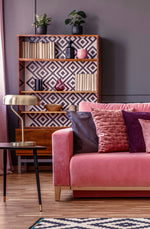 Glam
You're a leader, a go-getter, and a powerhouse

A glamorous interior design style will have you feeling like a million bucks!

The glam style includes jewel-toned colors and luxe textiles like leather,
suede, and velvet. The glam style showcases your appreciation for the
finer things. This style is polished and posh yet tasteful.

Your space could even channel a little bit of old Hollywood Glam for an abode that makes you feel like the star that you are.

Because you're passionate and driven by nature, it's important for you that your space highlights your unique passions. Look for objects that remind you of your goals, dreams, and vision for the world. You tend not to be super "traditional" and you like to create your own rules.

That said, antique or historical touches here and there can allow you to create a space that is grand, sweeping, and utterly unique. This means that Traditional interior design styles might speak to you as well.
A few prints perfect for your style:
Free Interior Design Guide with any art set
100% Happiness Guarantee — Free returns, no questions asked
Free Interior Design Guide with any art set

100% Happiness Guarantee — Free returns, no questions asked