This store requires javascript to be enabled for some features to work correctly.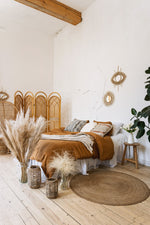 Bohemian
Your free-spirit loves buzzy social settings and setting the trend

Your space needs to reflect your playful, quick-witted charm.

The boho design style is like a quilt of design influences...mixing patterns and objects to create a space that's totally unique.

Because you see life as an adventure, display items from travels, from nature, from moments of day-to-day magic. A key element of the boho stylish layering patterns and textures.  Also, for you, plants need to be everywhere.

This layered aesthetic is expansive and boisterous, just like you.

Think of your home as a place to host soirees with the most interesting of guests.
A few prints perfect for your style:
Free Interior Design Guide with any art set
100% Happiness Guarantee — Free returns, no questions asked
Free Interior Design Guide with any art set

100% Happiness Guarantee — Free returns, no questions asked