This store requires javascript to be enabled for some features to work correctly.
FEATURED ARTIST
Ana Macaspac
My name is ANA MACASPAC, and I am the artist behind Art by Ana Mac (@artanamac on Instagram). My background is in graphic design and art history; though, after graduating from LMU with my BA in Studio Arts, I decided to pursue a career more centered on ministry and education. Nonetheless, design-thinking remained at the heart of my work life.

I'm honored to be a part of the Palomarin's community of Artists! Thank you, Sam and Ralph, for this opportunity to share my pieces with your audience.  As my close friends since undergrad, I'm beyond excited to collaborate with you both.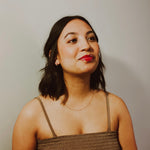 ART AND INSPO
In May of 2022, while living in my parent's house during the pandemic, I
began to revisit what I loved most about being a creator: using micron
pens, experimenting with typography, and detailing delicate botanicals. I
began accepting commissions for custom prints, and still largely create
based on the concepts of my clients. But my favorite work is that which
celebrates poetry, bodies, and word as image.
SHOP Prints